Howie Klein '69 Creates Scholarships with $1 Million Gift in Will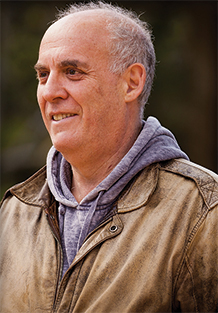 When Howie Klein '69 was in charge of Student Activities during the late 1960s, he routinely arranged for rock 'n' roll up-and-comers to perform in the Stony Brook gym: Janis Joplin, The Who, Jimi Hendrix, Joni Mitchell and many more legends-to-be. The booking fees were obscenely cheap: just $400 for The Doors; only $300 for The Allman Brothers; and a mere $750 for The Grateful Dead. Klein always recognized a good investment when he saw one--—including his decision to attend Stony Brook.
"My experiences as a student at Stony Brook set me on a path socially and politically, as well as professionally, in the music industry," said Howie, a Brooklyn native who now lives in Los Angeles where he writes a progressive political blog, DownWithTyranny. "My work on the Student Activities Board became the main thing in my life. It directly led to me becoming a music executive, starting my own record company and eventually becoming a senior executive at Warner Bros. Records and the president of Reprise," Klein said.
Because Stony Brook was such a catalyst in his success and happiness, and knowing first-hand the return on investing in a Stony Brook education, Howie made a bequest of $1 million to Stony Brook University to establish the Howard Klein and Roland Charest Scholarship for Social Change.
This gift will provide scholarships for undergraduate students in Stony Brook's Educational Opportunity Program/Advancement on Individual Merit (EOP/AIM) initiative. "Through this program Stony Brook helps economically disadvantaged students reach their full potential by providing them with affordable access to a college education," said Director Cheryl Hamilton.
Dexter Bailey, senior vice president for University Advancement, noted that, "It's always gratifying when alumni come forward to establish a legacy that will support student achievement for generations to come."
"I can't imagine a better way for me to invest my money," Klein said. "It amazes me how committed the EOP/AIM students are toward changing their lives, and in the process of changing their lives, some of these students are going to help change society."
Back
© Pentera, Inc. Planned giving content. All rights reserved.