Warkentin's Estate Gift Will Fund Scholarship Endowment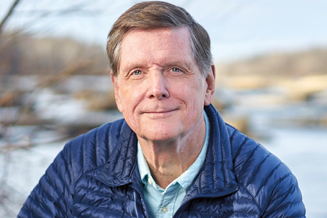 Growing up in Queens, John Warkentin '70 knew one constant in his parents' house.
"Education was the most important aspect of our lives growing up," Warkentin recalled. "We were encouraged to read, go to the library, do our best in school."
Still, when the time came for John and his siblings to go to college, cost was a concern. "My parents were traditional middle-class for the era," Warkentin said. "Private colleges were not an option at that point for us."
Instead, John followed his sister Ann and brother Michael to Stony Brook, living with them off campus in a small cottage their parents built as a summer home. A New York State Regents scholarship enabled him to attend Stony Brook tuition-free, leading to more than four decades practicing pulmonary medicine.
"It was a young university at the time," Dr. Warkentin said, "but even then, I could see the seeds of greatness."
Now, Warkentin is giving back. With his estate gift of $4.9 million, Dr. Warkentin will fund the Warkentin Family Presidential Scholarship Endowment — which will one day support scholarships for undergraduate and medical students at Stony Brook.
"Part of the reason for my wishing to give this scholarship is to help students who require financial aid to achieve their goals and their dreams," Dr. Warkentin said, "and to honor the contribution of my parents to our lives. I think that they would be very pleased to know that I was helping other students the way they helped me."
And, while Stony Brook Medicine didn't exist when Dr. Warkentin was a student, he's become acutely aware of the need for scholarship support.
"Physicians today are increasingly burdened by onerous debt when they get out of medical school," Dr. Warkentin said. "I'd like to relieve these students of at least part of their financial concerns and allow them to focus more on what they need to do as physicians."
Stony Brook University President Samuel L. Stanley Jr., MD, expressed his deep appreciation for the impact of the Warkentin Family Presidential Scholarship Endowment.
"John Warkentin's life and career are a testament to the power of a Stony Brook education," Dr. Stanley said. "We are grateful that the Warkentin Family Presidential Scholarship Endowment will make it possible for so many other students to author their own Stony Brook success stories."
Back
© Pentera, Inc. Planned giving content. All rights reserved.