Frances Brisbane's Planned Gift Will Endow Her Legacy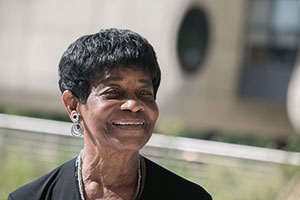 On the day Frances Brisbane arrived at Stony Brook University to interview for a teaching position in the newly created School of Social Welfare, one of her most impactful conversations was with a custodian over a slop sink.
But then, as Brisbane quickly learned, Elsie Owens '78 did far more at Stony Brook than keep buildings clean.
"Elsie met me at the front door," recalled Brisbane, who would eventually serve as Dean of the School of Social Welfare. "She had a dustpan in one hand and a broom or a mop in the other hand. She said, 'Before you go down there to talk with them, I want to tell you some things.' So I went to her 'office,' which was a slop sink, and she told me who to watch out for, what to say and what not to say and so forth, and I followed her directive."
In time, Brisbane in turn would help Owens — a celebrated community activist and a longtime advocate for black faculty and staff at the University — earn her bachelor's and master's degrees, making her one of many students Brisbane has helped during her career. Now, as she puts a bow on her own legacy at the University, Frances Brisbane is honoring Owens' legacy as well.
As part of a million-dollar planned gift, Brisbane is establishing the Owens-Brisbane Wellbeing and Educational Advancement Endowment for Health Sciences Custodial Staff.
"She'd want me to do this for the custodial workers," Brisbane said. "If I had a single reason, it's that."
Brisbane's donations — which also include nearly half a million dollars in payroll deductions and outright support during her career — comprise a philanthropic legacy worthy of accompanying her decorated academic record, which includes drug use prevention and recovery programs used across the United States and around the world, a unique academic conference now in its fourth decade, seven books and a litany of awards.
Now, her planned gift will serve to punctuate all that she's managed to do along the way.
"Frances Brisbane's career at Stony Brook exemplifies what the University stands for," said Stony Brook University President Samuel L. Stanley Jr. "From her 24 years as Dean of the School of Social Welfare to her continuing work as Vice President for Health Sciences Workforce Diversity and as Professor in the School of Social Welfare. We are all honored by the generosity of her planned gift."
Back
© Pentera, Inc. Planned giving content. All rights reserved.