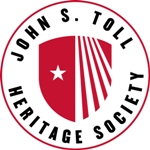 The John S. Toll Heritage Society was established in 1994 to honor the thoughtful generosity of those who have included the University in their estate plans or who have made a planned gift. Stony Brook University has provided educational opportunities since being founded more than fifty years ago in 1957. Through their planned gifts members of the Toll Society will ensure that students will be able to pursue an education for the next fifty years and beyond.
To make a gift for the benefit of Stony Brook University through your estate plan, please specify the legal beneficiary as the Stony Brook Foundation, Inc. Toll Society donors may designate their planned gifts to a particular college, school or program of their choice. Gifts can be added to or used to establish an endowed fund as a way to sustain annual gifts in perpetuity.
Due to its presence in the larger community, an investment in the future of Stony Brook is an investment in all our futures. We invite you to join our proud alumni, faculty, staff and friends and become a member of the John S. Toll Heritage Society. Your commitment may be revocable or irrevocable. You may remain anonymous if you wish, although we encourage you to share your intentions as a way of encouraging others to join you.
An Invitation to Join the Society
Donors are invited to join the Toll Society when notifying us of a planned gift. We will request documentation to ensure that the planned gift is legally viable and that the donor's intentions can be carried out in the future.
Types of Planned Gifts
You can join this special group of benefactors and become a member of the John S. Toll Heritage Society by remembering Stony Brook University in one or more of the following ways:
Bequest: include a gift to the Stony Brook Foundation in your will or trust
Retirement Plan: designate the Stony Brook Foundation as a beneficiary of your IRA or 401(k) plan
Life Insurance: designate the Stony Brook Foundation as a beneficiary of a life insurance policy
Charitable Gift Annuity: contribute cash or securities and retain a fixed income for life
Deferred Gift Annuity: contribute cash or securities and retain a future fixed income for life
Charitable Remainder Trust: contribute one or more assets and retain a fixed or fluctuating income for your lifetime or for a term of years
Charitable Lead Trust: contribute cash or securities to create an income stream for Stony Brook for a term of years and retain the right to receive the principal thereafter
Real Estate: contribute your primary or vacation home and live in it for your lifetime

Membership Benefits
The primary reason to join the John S. Toll Heritage Society is to experience the satisfaction of knowing you are helping generations of future Stony Brook students.
Other benefits include:
Significant tax savings and possibly additional income for you and your family
Invitations to an annual event held in honor of Society members
Acknowledgement of your generosity in University publications (unless you wish to remain anonymous)
Regular communications regarding important tax information, estate planning and other useful information
Early notice of special events, as well as occasional offers of complimentary tickets to various educational, theatrical and athletic events
If you need additional information or wish to discuss a planned gift, please contact:
Ashley Fetter
Assistant Director of Gift Planning
Phone: (631) 632-4926 or ashley.fetter@stonybrook.edu
Back
© Pentera, Inc. Planned giving content. All rights reserved.