Bill and Valerie Godfrey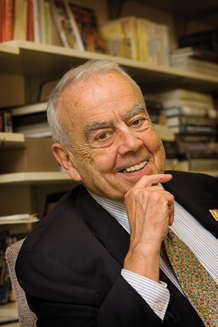 Bill Godfrey has been a fixture at Stony Brook for 42 years. And he and his wife Valerie have committed to supporting Stony Brook in the future by virtue of their planned gift.
Professor Godfrey served as director of the Upward Bound program for 20 years, was the first director of the EOP/AIM program and currently serves as the director of the Teacher Opportunity Corps. He has been the only Latin teacher ever at Stony Brook. He notes, "I am still in touch with a number of my former students who realize the benefits of a dead language!"
Valerie and Bill made a planned gift "because we felt that Stony Brook needed to give more scholarships to students who were the first generation in their family to attend college." The gift vehicle Bill and Valerie chose is a charitable gift annuity, which provides a fixed income, part of which is tax-free, to both of them for life. They claimed an income-tax charitable deduction in the year they made the gift, they currently receive a good payout and they have designated what remains for scholarship support.
Bill and Valerie have ten children and 22 grandchildren, "probably more than anyone else at Stony Brook," Bill laughingly said. And after providing for family, "we give to many other charities, but not to other universities, including the ones in which we earned degrees." (Bill graduated from Fordham, and Valerie from St. John's.) "I feel very strongly that public education is the way to go, and I find that the endowments of Harvard and the other elite schools are obscene."
Bill and Valerie have given generously to Stony Brook over the years to such diverse areas as the Staller Center for the Arts, the University Libraries, the Fund for Stony Brook and a variety of scholarship funds. The Godfreys are active in the greater community, serving as members of the President's Council of the Stony Brook Museum and as co-presidents of LISCA (Long Island Symphonic Choral Association).
In the end Valerie and Bill are focused on the students of the future. "We believe that public universities serve the needs of first-generation families and are an important step in rejuvenating the energy of this nation."
Back
© Pentera, Inc. Planned giving content. All rights reserved.