Evelyn Berezin and Israel Wilenitz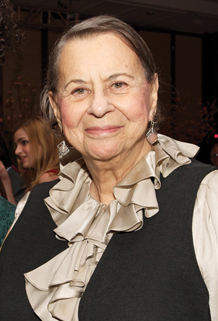 Evelyn Berezin is a successful Long Island businesswoman. She was married to her beloved husband, Israel Wilenitz, for more than 50 years. She has held and continues to hold several prestigious board positions. She is not an alumnus, and she spends at least part of each year away from Long Island. So what inspired her to make a bequest to Stony Brook and to establish several endowed funds at Stony Brook over the years?
In the late 1970s Evelyn met Dr. John H. Marburger, III at a Long Island Association meeting. Evelyn, who founded the Redactron Corporation in 1969 (this company designed, developed and manufactured electronic word processing systems sold worldwide), was invited to join and became a member of the Stony Brook Foundation board in 1985; she currently serves on the investment committee. She is also a member of Brookhaven Science Associates, serves on the board of overseers of the Faculty of Arts and Sciences of New York University and holds a board position with the Sion Power Corporation.
Evelyn graduated from New York University with a degree in physics, and in graduate school she held an Atomic Energy Commission Fellowship. She is the recipient of honorary doctorates from Adelphi University and Eastern Michigan University and was honored with the Long Island Distinguished Leadership Award in addition to being named to Business Week's List of "Top 100 Business Women in the United States." She was also designated by the Long Island Fund for Women and Girls as a 2006 Women Achiever's Against the Odds Honoree.
Evelyn became a member of the John S. Toll Heritage Society when she shared her bequest intentions with Stony Brook staff. In her will, after providing for some family members and her own alma mater, NYU, she established the Berezin-Wilenitz Endowment — which, depending on the value of her estate, will either fund a chair, professorship or research fund in any field of science at Stony Brook. "I feel that Stony Brook has given and continues to give a great education to children from low income families and particularly to children of immigrants." Evelyn chose a bequest to establish this fund because, as she stated with a smile, "I wanted to give as much as I could, but I couldn't know how much that was until I was dead!"
In addition to her planned gift, Evelyn and her late husband funded the Sam and Rose Berezin Endowed Scholarship. This is a four-year, full-tuition scholarship awarded to an undergraduate student who plans to study science, engineering or mathematics. It was created in honor of Evelyn's parents. They also established the Israel Wilenitz Endowment, which provides discretionary funds to the linguistics department, where her husband received a master's degree after he had retired.
Evelyn currently resides in Setauket and also has an apartment in NYC. She admires the improvements she has seen in the breadth as well as in the quality of the instruction, and the University has as a result attracted more qualified students. What is very obvious to everyone is the enormous improvements in the look of the campus and the increased amenities provided for the students.
Evelyn commented about her gifts over the years: "I gave Stony Brook University small amounts over time, but small amounts over the years do add up to make a difference to the University. It changes the way the University can serve the young people in the community and so changes the community itself."
Back
© Pentera, Inc. Planned giving content. All rights reserved.