Lori Zaikowski Makes Estate Gift to Endow Fund for Excellence in Her Father's Name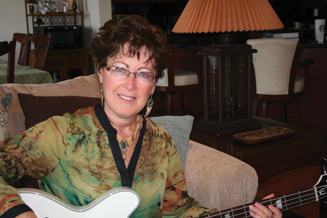 Lori Zaikowski, PhD '86, '91, '96, spent so much time on the Stony Brook campus as a child that she says it feels like home. She fondly remembers attending the annual picnic for geosciences with her father, the late Anthony Zaikowski, PhD '73, '78, at what is now the president's home at Sunwood. A native of Long Island, Lori earned her BS degree in Biological Sciences '86, her MS in Chemistry '91 and her PhD in Chemistry '96 from Stony Brook and has been a professor of chemistry and natural sciences at Dowling College since she graduated.
Because of how much Stony Brook University means to her and meant to her father, Lori has made a gift of a percentage of her estate to establish the Anthony Zaikowski Endowed Fund for Excellence in Geosciences. "He was always so grateful for all that Stony Brook did for him," says Lori. "I felt that this would enable the University to help other students to continue the work that my father cared about."
The elder Zaikowski did his doctoral research alongside Oliver Schaeffer, PhD, and earned his PhD in astrophysics in 1978. Their work included radiodating meteorites, and together they built the mass spectrometers that were used to research and date the moon rocks that were brought back during the Apollo space missions.
"This campus has always had such fine facilities," says Lori. "And it is even more beautiful now. It's amazing! Stony Brook prepared me well for my career, and I appreciated most that the professors were all very inspirational, knowledgeable and able to impart a way of thinking that enabled us to continue growing."
Out of deep respect for her mentor, Frank Fowler, PhD, and in appreciation for the education she received at Stony Brook University, Lori is also establishing the Lori Zaikowski Endowed Fund for Excellence in Chemistry in order to encourage and support the advancement of studies in the area of Chemistry and to support education and research in Chemistry for future generations of students.
Lori says that Stony Brook is a place where students can still get a very high-quality education regardless of their financial means. And with the support of donors, even more students will have the opportunity to benefit from the world-class faculty and facilities at Stony Brook University.
Back
© Pentera, Inc. Planned giving content. All rights reserved.