Stony Brook Microbiologist JoAnn Becht Gives $100K to School of Medicine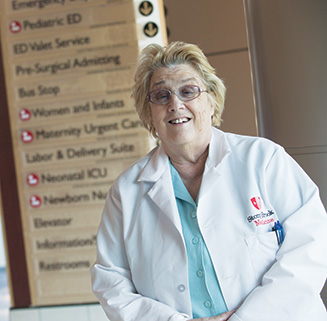 After more than half a century in the field of microbiology, JoAnn Becht has seen first-hand the many automation systems that have evolved her field into the lifesaving science it is today. What once took four hours to complete in a single inoculation tube can now be done many times over in 20 minutes. Becht is amazed by the evolution of her profession since 1960.
Now in the latter half of her career, Becht wants to support the future of her profession while capitalizing on her financial goals. Whether it's used for study, student scholarships or state-of-the-art research instrumentation, her legacy gift of $100,000 will benefit the School of Medicine and its scientific research.
"The field is entering a new frontier of greatness and challenges," she said. "Testing volume has increased, which is driven by an aging population, infection control demands and the emergence of multiresistant organisms."
Continued innovation could someday spur the development of fully automated labs, but for now Becht continues to track down clues in the identification of bacterium that will diagnose and help patients regain their health. "Microbiology is like playing detective or putting together a difficult puzzle," she said.
"This is a perfect example of what it means to invest in something that you believe in," said Kenneth Kaushansky, MD, MACP, senior vice president of Health Sciences and dean, School of Medicine. "Through her gift, JoAnn is truly supporting a vision she believes in, and it's something we should all strive for. She leads by example."
Becht found that a bequest — a gift in her will — offered her considerable benefits. It offers her the ability to change her gift at any time and gives her complete access to her assets at all times. Bequests are also popular because they provide a variety of tax advantages.
"I'm thrilled that I can give back to the University that has allowed me to live out my passion," Becht said. Her gift will count toward The Campaign for Stony Brook. To date, more than 38,000 donors have contributed $468 million toward the campaign's $600 million goal.
Back
© Pentera, Inc. Planned giving content. All rights reserved.