Former Football Players Establish Legacy with Planned Gift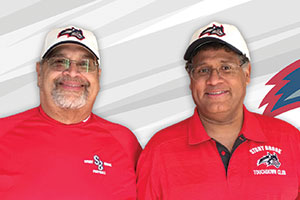 Roberto and Miguel Tillman
Roberto and Miguel Tillman look to pass on lessons learned on the gridiron
A gleaming stadium. Thousands of fans. NCAA Championship tournaments. All cornerstones of the Stony Brook football experience — and things that Roberto Tillman '78 and Miguel Tillman '78 could only dream about while playing club football at Stony Brook.
"Our bleachers were from a high school," Roberto said. "We used a snow fence around the field. For halftime, we'd use a high school band."
Still, for two young men who'd never played organized football, it was the perfect opportunity; and as they built their careers — Roberto with the New York City Department of Education and Miguel at Travelers Insurance — both Tillmans found that their gridiron experience served them well.
"Everyone has different communication approaches," Miguel said, "and you really need to be more fluid and adapt your style. That came out of working with team members who had different perceptions."
Along the way, Roberto and Miguel have never forgotten where those lessons were learned. Now, as loyal donors to Stony Brook, they're ready to establish a legacy that will last: the Roberto and Miguel Tillman Football Endowed Scholarship.
While the planned gift to create the scholarship isn't expected anytime soon, the commitment itself makes an impact.
"A planned gift is such a special way for people to give back to the institution," Stony Brook Director of Athletics Heilbron said. "It's a way to leave a legacy after they're gone — and while we hope that it's a long time until we see the money, it is important for us to know that they believe enough in what is happening here that they want to support a Stony Brook student-athlete after they are gone."
Back
© Pentera, Inc. Planned giving content. All rights reserved.