John Anderson's Charitable Gift Annuity Funds Scholarship to Benefit Humanities Students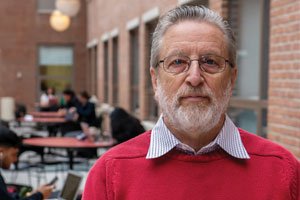 John H. Anderson '69
John H. Anderson '69 says his best memory of his time at Stony Brook was during his sophomore year when he met his late wife Nancy. "I was working as a supervisor in the cafeteria, and she was scooping ice cream at the end of the line." They were married the weekend of Woodstock. Nancy was a high school English teacher, and John enjoyed a 37-year career as a social worker. They were married for 35 years until Nancy's death in 2004.
After decades of annual giving and inspired by reading one of our newsletters, John recently established a charitable gift annuity (CGA) funded with appreciated stock to support scholarships that will benefit humanities students. "There are not usually many resources for a student who wants to become an English teacher."
In addition to a steady stream of income from his CGA, John also benefits from giving appreciated stock by avoiding the capital-gain tax he would have owed had he sold the stock. "I purchased the stock years ago because Nancy wanted to get involved in investments," he says. "I chose Amazon stock because she liked buying books from them." He believes the cost was around $9 a share at that time. "She would be humbled to know that this investment is now helping to support student scholarships."
John encourages other alumni and friends of the University to consider what resources they have available to fund gifts at Stony Brook. "You don't have to start with a lot," he says, "but you have to start with something. Any amount is important. And if you can designate it to go toward something you're excited about, that's even better."
Back
© Pentera, Inc. Planned giving content. All rights reserved.