Jeanine and Barry Teger's Bequest to Support Kidney Transplant Team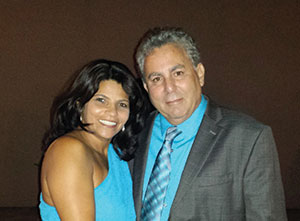 Jeanine and Barry Teger
Jeanine Teger knew she needed a kidney for more than 20 years as her kidney function slowly declined. Her husband Barry wanted to be her advocate and attended a kidney conference in Garden City where he sat next to Dawn Francisquini, MSN, BS, RN, CCTC, the administrative director of Stony Brook Hospital's Kidney Transplant Team. She encouraged Barry and Jeanine to look into Stony Brook's program, which was established in 1979—making it the oldest and most active program on Long Island.
After a "flawless" registration process with Stony Brook's program, Jeanine received a kidney in less than three years—much lower than the average wait. The donor kidney was a perfect match, with the six markers used to determine compatibility matching her markers 100%. It should last her the rest of her life.
In gratitude for Jeanine's life-changing transplant, the Tegers have included a bequest to Stony Brook in their will to support the Kidney Transplant Team and to establish the Jeanine and Barry Teger Fund for Excellence in Kidney Transplantation. They hope their gift will support kidney research and patient support.
"Some people die waiting for a kidney, others go on dialysis while they are waiting," Barry says. "It is a very scary and uncertain time for families, and we want other families to have access to the type of care we received at Stony Brook Hospital."
After the transplant, Dawn and the whole team came to visit and check on Jeanine's progress. "Every step of the way we were treated like gold. Our experience with Stony Brook, on a scale of one to ten, was a ten with everyone we dealt with," say the Tegers, who could not speak highly enough about the staff. Everyone from the doctors to the transporters were so caring and helpful throughout Jeanine's entire journey.
Barry and Jeanine encourage others to do what they can to give back. Their deferred estate gift is allowing them to enjoy their money during their lifetime and then do something meaningful in the future. They have currently committed to $50,000 but hope that when the time comes, they can do more.
Back
© Pentera, Inc. Planned giving content. All rights reserved.