Pugsley's Bequest Will Create Endowed Chair in Sociology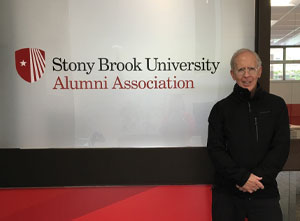 Robert "Bob" Pugsley has had a long and distinguished career, including providing legal commentary on criminal law issues during numerous high-profile trials through a vast array of media outlets. He has been interviewed by CNN, Washington Post, New York Times, Los Angeles Times, and Chicago Tribune.
Bob graduated from Stony Brook University in 1968 with a BA in sociology and credits much of his success to the education and opportunities that his time at Stony Brook provided. After leaving Stony Brook, he went on to earn a JD and LLM in criminal justice from New York University School of Law and launched into a vibrant career as a legal educator, teaching courses in Criminal Law and Constitutional Criminal Procedure.
When finalizing his estate plan, Bob shared with his advisor that he wanted to consider leaving a significant gift to Stony Brook. Together with his legal counsel, Bob settled on a residuary bequest, which will be used to give all the "rest, residue, and remainder" of his property after debts, taxes, expenses, and specific bequests have been paid. With this model, Bob was able to leave specific gifts to family, friends, and other charities that he cares about, with the rest of his estate left to Stony Brook.
The goal of Bob's future gift is to establish the Robert Pugsley Endowed Chair in Sociology. "I am proud to be able to leave a lasting legacy that will benefit the students, faculty, and the larger community at Stony Brook."
An endowed chair is a time-honored means of attracting eminent scholars and retaining and rewarding outstanding current faculty. Most important, the development of an endowed chair — the first for Stony Brook's Department of Sociology — makes a critical difference to such departments. The greatest institutions have the best minds, the most creative researchers, and the most engaged faculty. Building a mighty base of faculty talent enriches the academic environment, which then attracts the brightest students. This endowed chair will continue to help elevate the prestige and quality of Stony Brook University, the most iconic public institution on Long Island and the number one public university in New York.
Back
© Pentera, Inc. Planned giving content. All rights reserved.